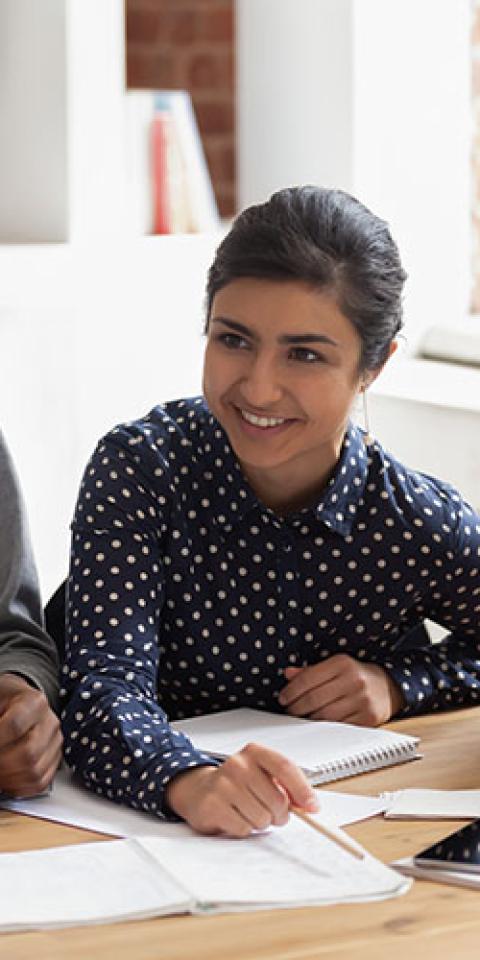 Bachelor in Business Administration
Admission Level
1st year university level
INTRODUCTION
Program description
This Bachelor in Business Administration is intended for young high school graduates willing to get a sound knowledge of international management.
The international perspective of business is declined on a three dimension basis:
French culture, heritage, and savoir-faire
Europe as a central business focus, including aspects of integration, cooperation, and cross-cultural experience
Worldwide exposure: learning and practicing management techniques that are internationally used, which are rooted in classic and innovative academic research
All our courses combine fundamental management theories taught by our permanent research faculty and business experts, carefully selected by our Pedagogical Committee, with real business learning: companies experiences, best practices collected from our experts, field trips and one semester abroad (at the end of the third year).
The program bases itself in three main competences for the student: knowledge (including concepts, laws, and norms), practice (methods and procedures), and self-adaptation to different situations.
88%
of students are employed 6 months after graduation
71%
Of students on an internship or who are employed abroad
34 000€
Average gross salary in 1st job
Objectives
Discover and fully express your potential by developing your creative thinking and providing you with tools to adapt to new business models.
Living in a global environment: the international orientation and the cultural richness of multicultural experiences provide the appropriate context to develop advanced skills in a complex world.
Learn the necessary know-how for a future executive career: scientific methods and real business cases allow in-depth learning of analytical and decision-making tools.
Courses Program
Applied business math systems: advanced level
Applied business math systems: advanced level tutoring
Business English
Commercial law
Corporate social responsibilityCost accounting
Econometrics and big data
Econometrics and big data tutoring
French culture
Fundamentals of financial analysis
Fundamentals of financial analysis tutoring
IT systems, Coding,and artificial intelligence
Mandarin
Analytical Accounting
Analytical Accounting tutoring
Business and economic intelligence
Conferences and talks
French culture & visits
Innovation management
International business law and ethics
Internship / social activity
Logistics and Supply Chain & Tutoring
Mandarin
Marketing research : applied methods
Social networks and marketing
Start up project (3 days interactive seminar)
Strategic models 1 & tutoring
TOEFL ITP preparation
Business games tutoring
Conferences and talks
Corporate and marketing communications
Financial markets overview
Financial Valorization
French language
HR management
HR management tutoring
International Career prep
Mandarin
Measuring performance : business KPIs and TQM
Measuring performance : business KPIs tutoring
Netnography and community management
Phygital strategies and omnichannel
Strategies for luxury markets (fashion, foods, and beverages)
Understanding Strategy
Advanced topics in digital theory and value creation
Applied business case on Brand Management
Brand Management
Business budgeting & tutoring
Business games
Commitment in the school activities
Conferences and talks
Contract law
Cultural and technical activities
Financial Modelling
French language
Global financial regulations
International commerce techniques
International commerce techniques tutoring
nternational consumer behavior
Internship written assignment
Mandarin
Project management
Project management tutoring
RisksManagement
Team management, interpersonal communication, and meetings
Team management, interpersonal communication, Tutoring
Skills
This Bachelor in Business Administration will allow you to acquire the skills expected of 4.0 companies, namely
Behavioral skills - Beyond a very important sense of responsibility, you will develop autonomy, initiative, openness and the ability to come up with new ideas.
Professional skills - In addition to the options you choose, you will be able to:
Define strategic orientations
Meet stakeholder expectations
To manage a team
Understand the international development of a company
Teaching method
This Bachelor in Business Administration is based on four pillars:
The theoretical framework
Learning by doing with real cases
The international exhibition as a real experience on campus
Testimonials from business experts or sharing of experience
This last pillar is essential to our pedagogy and to the construction of a precise career for our students. Whether it is seminars or master classes, our students will regularly meet business leaders and have open interaction with them. We also expect our students to participate in defining and organizing these testimonials.
Bachelor 2nd year
BAC + 1
Open to professionals
Selection all year round
CV + motivation questionnaire
Bachelor 3rd year
BAC + 2
Open to professionals
Selection all year round
CV + motivation questionnaire