First of SMBG ranking of best Masters in business intelligence since 2002.
The SMBG ranking of the best Masters, MS and MBA is elaborated each year by a Scientifique Committee which brings together a representative of the wolrd of the company (CEO most of the time), a representative of the world of the press, national Education or Ministry of Higher Education and Research, representative ot the HR world and two members of SMBG.
This ranking is etasblished on the basis of three main criteria :
Program notoriety
The income at the left of the young graduates
The satisfaction survey of student
+ view the full 2016 ranking of the bes masters in business intelligence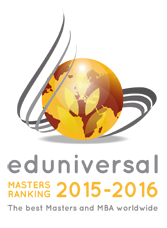 Ecole de Guerre Economique is the best french MBA and the 7th world MBA in Business Intelligence in Eduniversal Masters World rankings
For 4 years, Eduniversal has ranked the best Masters, MBA worldwide in their sector. 4000 training courses are thus classified each year in 154 countries. Of the 50 courses in the "Best Eduniversal Masters in Business Intelligence, Knowledge and Security Management" category, the EGE is in the top 5 for the third consecutive year.
+ world ranking of Eduniversal masters 2015-2016
The SMBG Education Trophies
Among the Directors of 100 teachers chosen as the best French program managers, all courses and specialties combined (out of 450 courses). Christian Harbulot (Business Intelligence) ranked 6th in 2009. He was also ranked « Best Program Manager » in 2005. It is his pedagogical work and the original teaching in EGE that are once again rewarded.
+ the SMBG Education Trophies 2016
Business Intelligence manual receives axard for the best book on Economic Intelligence 2012
20 years after the Martre Report, the new Manual of Economic Intelligence, headed by Christian Harbulot, recevies the Crystal Owl from the hands of Mr. Martre himself, President of the IEC'2012 jury, on the occasion of the 18th National Day of Business Intelligence.