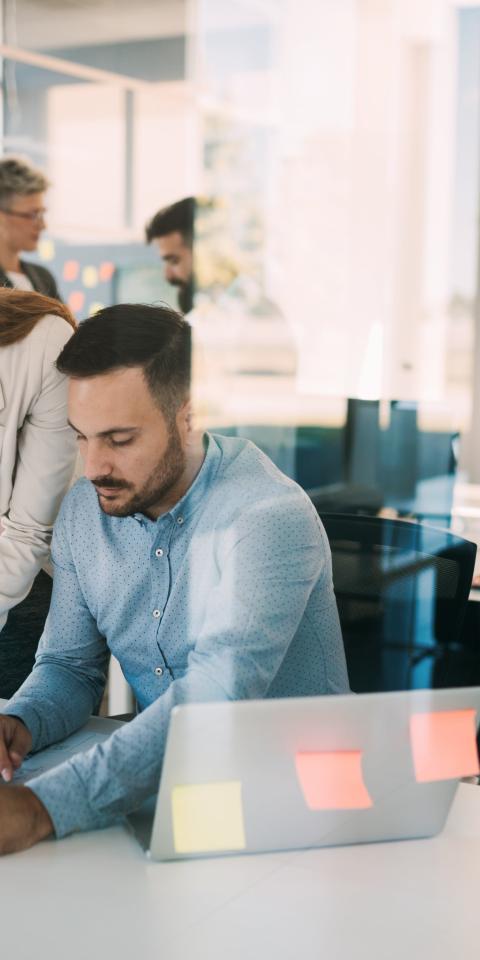 Start date
October, February and April
Format
Classic / Fast Track initial or continuous training
Admission Level
3-year Undergraduate degree or Higher
Finance attracts talent from a wide variety of backgrounds through its stimulating professions and high salaries. This diversity of horizons is an asset, but it does not prevent a base of common values, foremost among which we can cite responsibility and transparency. Indeed, finance is first and foremost based on the confidence of stakeholders, as the recent crises have reminded us. Finance is a "control center" allowing resources to be allocated to projects to best support growth. Whatever the sector, the company relies on its financial frameworks, both to ensure the compliance of its activity and to finance its development.
The first year of the MBA Finance is distinguished by two rhythms: 12-month or 6-month format, it's up to you to choose!
- Start of school year February 2021: Take advantage of a continuous accelerated course over 6 months and start your second year in October 2021!
- Start of the school year in October 2021: More traditional format accessible in initial or alternation.
In the 2nd year, you will have the choice to specialize in one of these two branches:
- Audit and management control
- Financial engineering

79%
Of students obtaining the RNCP title
68.75%
of students are employed 12 months after graduation
33 000€
Average gross salary in 1st job
Objectives
Acquire in-depth training in technical expertise in the field of finance
Develop a solid knowledge of corporate finance practices in a context of increasing deregulation and globalization
Acquire the necessary know-how, both with regard to the economic environment, accounting, law, taxation, and the management techniques themselves
Develop expertise in Audit and Management Control, real management tools for the company
Adopt a complete and transversal approach to finance: companies, markets, risks and controls
Courses Program
Diagnose the viability of the organization:
Evaluate, analyze and interpret summary documents in accounting (balance sheet, income statement and appendices)
Master the tools of financial analysis (tables of intermediate management balances, financial report, flow tables, etc.)
Apply the theories to the legal framework of the company
Situate the company's activity in its environment
Manage the financial performance of the company:
Establish, measure and monitor financial performance indicators
Mobilize market funding levers
Evaluate the company and its business model
Measure overall performance and master prospective dashboards.
Exploit the contributions of technology to finance:
Design simple value optimization algorithms
Manage coordination between technical and financial teams
Be able to set up the conditions conducive to financial innovation
Adapt to changes in business needs by mastering new techniques
Mobilize new financial tools to optimize added value as well as the societal impact of the company's financial activity:
Evaluate sustainable development scenarios to create value
Detect fraudulent activity
Define reading grids to distinguish between information and noise
Mobilize collective funding sources
Anticipate and manage regulatory and financial risks:
Evaluate regulatory ratios
Manage and evaluate a financial audit
Establish governance mechanisms
Interpret financial or future crises at one of the past events
Use modern managerial methods, derived from recent theories of social sciences:
Develop and evaluate a business plan
Apply ethical conduct to company strategy
Diagnose, design and implement a strategy
Communicate effectively in English
Carry out a financial diagnosis, as a group:
Knowing how to work in a group
Develop and apply the audit methodology
Evaluate the sincerity of the company's accounts
Knowing how to present your results orally
Carry out management control missions and the different types of audits:
Determine / analyze costs and organize budget management
Structure the performance improvement tools (quality, costs, TBD)
Master the tax regimes and tax optimization techniques for companies and consulting
Master the ISAs and apply them as part of the accounting and financial audit
Perform an IS Audit and assess its governance, environment and operational risks
Perform a social and environmental audit
Carry out financial operations and credit analysis set-up missions and understand the role of financial data / innovation:
Know and implement new financial transaction arrangements
Arbitrate / assess the most suitable financial structure (Fintech and others)
Understand and apply the principles of encryption and verification of the blockchain (crypto-currencies)
Effectively manage exchanges between technical and financial teams
Master new techniques and adapt to the needs of the business and the imperatives of financial innovation
Perform a credit analysis based on the credit risk assessment process
Carry out a research study:
Expose the different theoretical currents around a problem
Develop a methodology adapted to the question asked
Discuss the results and put them in context
Provide answers to the question asked and measure its limits
Apply the accumulated knowledge to the company:
Identify the targets corresponding to the beginning of a career
Know how to sell oneself
Integrate into a professional environment
Become a successful and appreciated employee
Skills
Diagnose the viability of the organization
Manage the performance of the company
Exploiting the contributions of technology to finance
Anticipate and manage regulatory and financial risks
Use modern managerial methods, derived from recent theories of the social sciences
Teaching method
Our Master of Business Administration (MBA) Finance aims to give our students a balance between three pillars: finance, management and intellectual openness.
- Finance: there are fundamentals to know and master, there are depths to be understood, there is above all a profession to understand and occupy.
- Management: our students will be managers, they must know the theory as well as the practice, they must know what constitutes a company (HR, marketing, strategy) in order to be able to develop, finance and enhance it
- Intellectual Openness: with a technology that is revolutionizing our organizations, our professions, our knowledge, we intend to give our students the tools to face, anticipate, respond to new professions, new companies, new finance
MBA 1st year
Bac +3 (license validated or in the process of being validated)
Open to business executives
CV + Questionnaire followed by a motivational interview
Selection all year round
MBA 2nd year
Bac +4 (license validated or in the process of being validated)
Open to business executives
CV + Questionnaire followed by a motivational interview
Selection all year round
Diploma recognition
Diplôme d'établissement qui prépare au Titre RNCP 23693 « Expert(e) en contrôle de gestion et pilotage d'activité », Certification professionnelle délivrée par l'Organisme Certificateur HEMA de niveau I RNCP/ 7 Européen, Code NSF 314r, paru au JO du 7 août 2018
Career perspectives
The MBA Finance mainly deals with the management of the performance of organizations and companies.
Students of this MBA Finance can apply for the following sectors:
- Financial audit
- External audit in firm
- Financial analysis
- Financial engineering
- Management control
- Internal control
- Advice
- Administrative and financial management
- Merger and Acquisitions