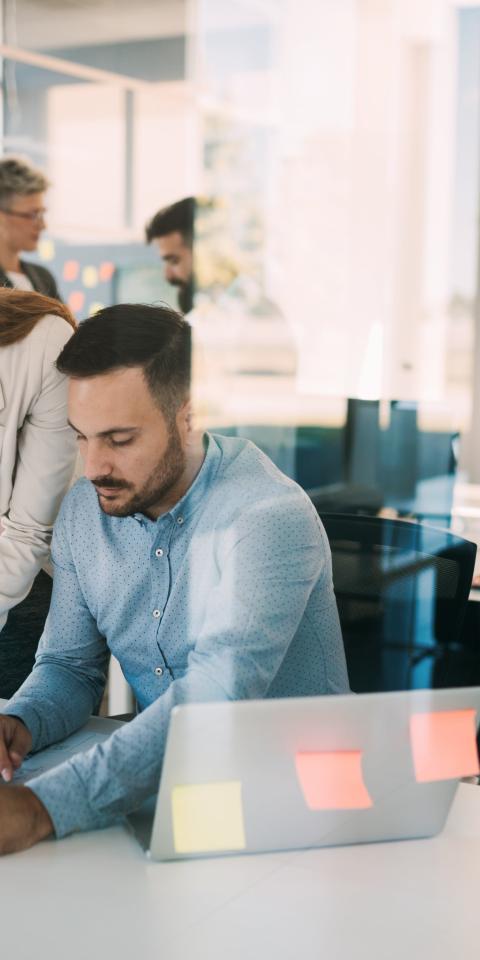 Start date
October, February and April
Format
Classic / Fast Track initial or continuous training
Admission Level
3-year Undergraduate degree or Higher
Finance attracts talent from a wide variety of backgrounds through its stimulating professions and high salaries. This diversity of horizons is an asset, but it does not prevent a base of common values, foremost among which we can cite responsibility and transparency. Indeed, finance is first and foremost based on the confidence of stakeholders, as the recent crises have reminded us. Finance is a "control center" allowing resources to be allocated to projects to best support growth. Whatever the sector, the company relies on its financial frameworks, both to ensure the compliance of its activity and to finance its development.
The first year of the MBA Finance is distinguished by two rhythms: 12-month or 6-month format, it's up to you to choose!
- Start of school year February 2021: Take advantage of a continuous accelerated course over 6 months and start your second year in October 2021!
- Start of the school year in October 2021: More traditional format accessible in initial or alternation.
In the 2nd year, you will have the choice to specialize in one of these two branches:
- Audit and management control
- Financial engineering

Training in figures - class 2022
Rate of achievement of RNCP* qualification.
*data to come, certification panel in progress
80%
of students are in work 6 months after graduation
Objectives
Acquire in-depth training in technical expertise in the field of finance
Develop a solid knowledge of corporate finance practices in a context of increasing deregulation and globalization
Acquire the necessary know-how, both with regard to the economic environment, accounting, law, taxation, and the management techniques themselves
Develop expertise in Audit and Management Control, real management tools for the company
Adopt a complete and transversal approach to finance: companies, markets, risks and controls
Courses Program
Diagnose the viability of the organization:
Evaluate, analyze and interpret summary documents in accounting (balance sheet, income statement and appendices)
Master the tools of financial analysis (tables of intermediate management balances, financial report, flow tables, etc.)
Apply the theories to the legal framework of the company
Situate the company's activity in its environment
Manage the financial performance of the company:
Establish, measure and monitor financial performance indicators
Mobilize market funding levers
Evaluate the company and its business model
Measure overall performance and master prospective dashboards.
Exploit the contributions of technology to finance:
Design simple value optimization algorithms
Manage coordination between technical and financial teams
Be able to set up the conditions conducive to financial innovation
Adapt to changes in business needs by mastering new techniques
Mobilize new financial tools to optimize added value as well as the societal impact of the company's financial activity:
Evaluate sustainable development scenarios to create value
Detect fraudulent activity
Define reading grids to distinguish between information and noise
Mobilize collective funding sources
Anticipate and manage regulatory and financial risks:
Evaluate regulatory ratios
Manage and evaluate a financial audit
Establish governance mechanisms
Interpret financial or future crises at one of the past events
Use modern managerial methods, derived from recent theories of social sciences:
Develop and evaluate a business plan
Apply ethical conduct to company strategy
Diagnose, design and implement a strategy
Communicate effectively in English
Know how to manager Mergers and acquisitions.