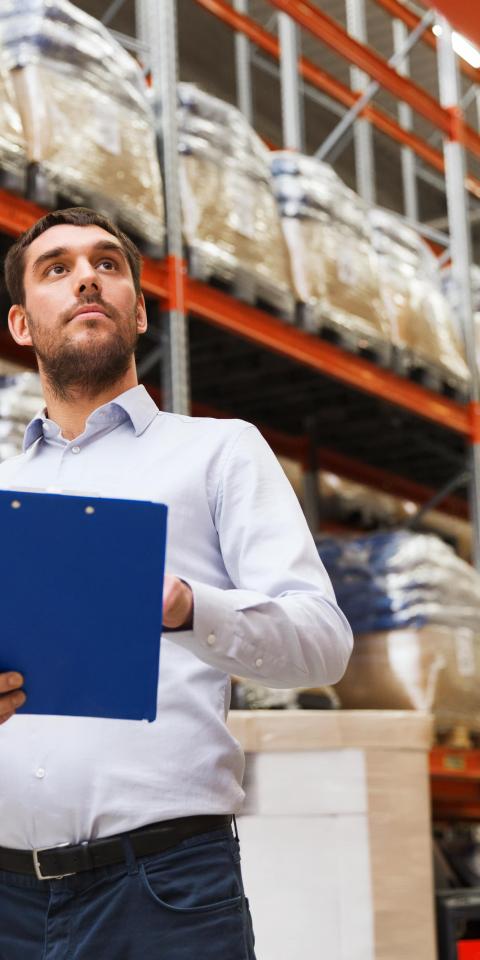 MBA Logistics and Supply Chain Management
Start date
October and May
Format
Initial or continuous training
Admission Level
3-year Undergraduate degree or Higher
The Logistics and Supply-Chain Management Program of ESLSCA Business School Paris aims to train young professionals who are competent, cultivated, open to the world and anchored in both values ​​and knowledge. The exercise of Management is not only based on mastery of techniques and technologies, but also on the ability to create dynamics by supporting women, men and regions.
The program favors contact with a network of high-level professionals working in first-class companies (industry, commerce, digital, distribution, e-commerce, public sector and sovereign services, education) in a position to offer students openings and opportunities. prospects of interest.
The pedagogical approach favors the alternation between general courses and shorter modules carried out by passionate professional speakers, who are keen to share their experiences. The course will be interspersed with several visits to discover companies, infrastructures, trade shows and attendance at targeted conferences related to our industry.
Our field experience leads us to consider general culture, reading, and interpersonal skills as keys to success that matter as much as mastery of technique. Open to innovation, we favor the exploration of emerging trends to invent the supply chain engines of tomorrow.
The Logistics and Supply-Chain Management MBA at ESLSCA Business School Paris offers two specializations in the second year:
Logistics & Supply-Chain Specialization
Purchasing Specialization
The Master Business Administration (MBA) "Logistics & Supply Chain Management" (MBA1 and MBA2) is addressed to:
- students with general, scientific, economic, legal, commercial or management training who wish to deepen their knowledge or acquire dual skills in logistics and supply chain management.
- professionals who, after a few years of experience, seek to develop in their profession, in managerial or functional positions

80%
Of students employed 12 months after graduation
Objectives
The Logistics and Supply Chain Management MBA prepares students for:
Have a toolbox enabling them to intervene in the field of the supply chain.
Develop solid knowledge in the operational management of Logistics, Supply Chain or Purchasing, in an international context.
Acquire the necessary skills to navigate in a complex and uncertain environment.
Adopt a transversal approach to these Businesses, both internally and with external partners.
Courses Program
Strategy, Business Models
SME, Disruptive Innovation
CSR
Purchases & R.S.E
Fundamentals of Risk Management
Business plan, Budgets
Digital transformation
Agile project management
VBA
Corporate Finance & Innovation - Start up Projects (1)
Corporate finance & innovation - Start up (2)
Methodology for organizing logistics information flows
Management of logistics projects
Digitalization of the Purchasing function
Purchasing project management
Industrial Logistics
Production & inventory management
Production & inventory management - Serious games
Supply Chain Modeling & Management
Lean Management
Logistics and traceability
Logistics and SMEs
Supply Chain Management & ERP
Supply Chain Resilience
Supply Chain Environment
CS performance measurement
Elements of customs techniques
Transport - Optimization
Transport - Panorama
Warehouse logistics
Transport Insurance
Distribution logistics
Logistics and collaborative platforms
Logistics and international trade
Sustainable supply chain & Incoterms control
Transport law
Introduction to Purchasing & Procurement - Process
Purchasing Strategy & Audit
Purchasing of logistics services
Specifications
Contractualization & implementation of the contract
Management of the relationship with the supplier (S.R.M)
Management of calls for tenders in the private sector
Public Purchases
Purchasing Marketing & Supplier Market Consultation
Optimization of purchasing costs
Pricing purchases
Purchasing performance measurement
SITL visit
Vivatech
Jobs Purchasing & job search
Careers & job search in the SC
Ethics & compliance
English applied to Logistics
English applied to purchases
Skills
Test supply chain concepts: Supply Chain Management
Know the tools and models for decision support and demand forecasting
Understand the importance of technological developments, particularly in connection with R.S.E.
Support the transformation of the Supply Chain with digitization
Understand the logic of a winning partnership with a supplier or service provider
Manage projects related to Supply Chain or Purchasing.