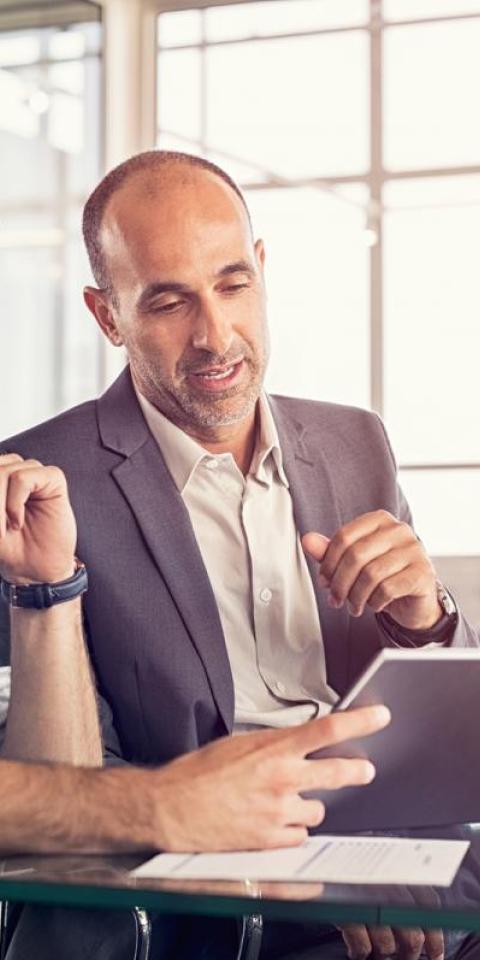 MBA Marketing Digital & Innovation - Data Specialization
Format
Initial or continuous training
Admission Level
4-year Undergraduate degree or Higher
Program's description
Our program designed in line with the job market promotes interesting bridges between the digital marketing and data professions according to each person's appetites, opportunities and professional plan. Thus, the Digital Marketing & Innovation Master in Data Marketing aims to master skills in strategy and digital marketing on the one hand, development, data science, data analysis and big data on the other hand in order to guarantee an exhaustive data path:
Modern Data and Big Data Infrastructures
Language, data exploration and manipulation
Analytics and data science
Data governance
As such, the specialized Master in Digital Marketing - Data at ESLSCA business school is:
A 360 ° education that combines strategic and operational skills in digital marketing and data
An approach based on the Eslsca method of the augmented ethical manager 4.0 via skills in marketing and digital digital transformation and professional skills and personal development (Soft Skills)
A measured balance between innovation marketing and data (web development, data analysis and visualization, etc.) with a view to matching the job market
A course where experimentation and disruptive innovation are at the heart of teaching via tangible projects (Dataset, marketing campaigns, Hackathons, design thinking, etc.)
A program allowing maximum cross-functional employability in current data professions and digital marketing professions and recognized certifications (Google Analytics and Power BI)
8th
of the 2021 Eduniversal ranking in the "E-Business" category
87%
of students are employed 6 months after graduation
87%
Of students on an internship or who are employed abroad
31 000 €
Average gross salary in 1st job
Objectives
Develop solid strategic and operational knowledge in digital marketing, communication, advertising, sales and marketing studies
Be able to master the digital transformation of traditional fields (e-marketing, e-commerce, e-CRM, e-Communication, e-advertising) As well as the new essential skills in this field: mobility, analysis, Big Data, DMP, innovation, connected objects)
Understand the new opportunities offered by the web, social media and more generally the omnichannel world (mobile / tablet, webtTV and TV 2.0, urban display, new generation ...)
Know how to develop and perpetuate a digital business creation project
Courses Program
Inbound marketing (Customer journey)
UI UX / design
CRM and marketing automation
Customer satisfaction and loyalty
Social selling and inbound marketing
Mobile marketing
Digital marketing strategy and acquisition levers
Content marketing and digital strategy
Web analytics / Google Analytics
Economic intelligence
Business English
Big Data Ecosystems
Cloud Computing (AWS)
SQL Database
Intermediate python
Business English
Parallel calculation
Unstructured database
Data Analysis
Machine learning
Deep Learning
Data visualization (Power Bi)
Data regulation
Data governance
Ethics and CSR
Soft Skills
Skills
Our MBA Marketing Digital & Innovation aims to:
Train ethical 4.0 managers in digital marketing at both strategic and operational levels, able to occupy positions in both marketing and data fields
Adopt a transversal marketing approach to set up a digital marketing strategy, both long term and short term in a context of digital transformation
Develop and consolidate the spirit of Growth marketing and business development both in the context of Start-ups / SMEs and large companies in an innovation marketing approach
Understand the opportunities and challenges offered by Data and Big Data in order to face the new challenges of innovation marketing (artificial intelligence, machine learning, etc.) and meet the requirements of personalization and customer engagement
Pedagogical method
The educational engineering of ESLSCA is based on three pillars:
The Academic: The starting point is the academic pillar which allows the learner to acquire technical, scientific and managerial knowledge.
Know-how: Putting into perspective with the real situation in a company or carrying out a mission on a business problem or carrying out CCMP (Central Case) case studies.
Expertise: Increase in expertise through certifications offered to the student and participation in conferences, master classes.
Important events
Inbound Marketing Day 2022 (M1 et M2)
Vivatech Exhibition 2022
Hackathon (Test &Lean)
Academic projects
Preparation for Google certifications: Google Analytics
Microsoft Power BI certification
Preparation for Inbound Marketing certification (Hubspot)
Preparation and passing of the TOEIC
Hackathon, Capstone
AWS (Amazon Web Service) Academy Partnership: This partnership offers a