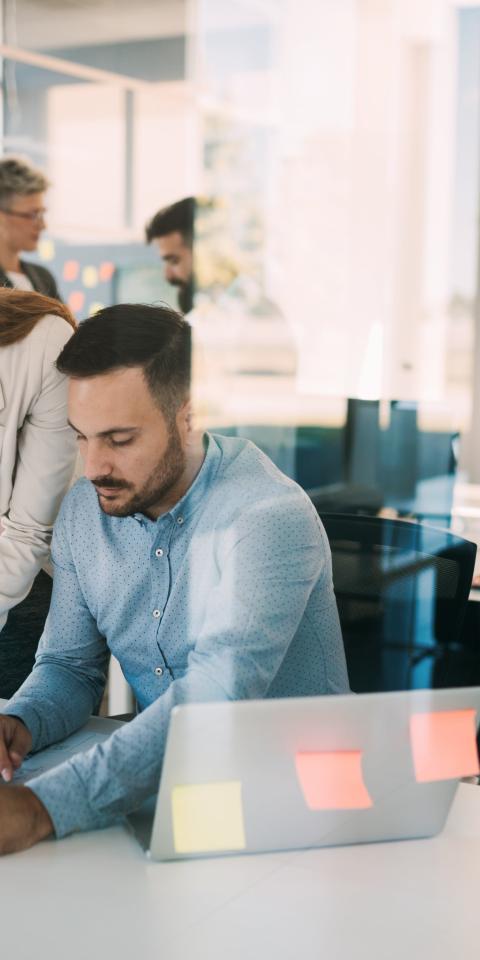 Language
French and English
Format
Classic or continuous training
Admission Level
3-year Undergraduate degree or Higher
The aim of the MBA specialising in corporate finance is to train ethical managers with cutting-edge technical and financial skills, who are aware of the directions in which their professions are evolving and the importance of their activity for society as a whole. This ambition for ethics and responsibility is central at a time when the need for business sustainability and technological developments (particularly blockchain) are profoundly changing the financial professions.
The programme familiarises students with the institutions, products, approaches and concrete practices involved in financing and capital markets operations. Students acquire knowledge of corporate financial decision-making in an international environment and learn to master the tools for evaluating investments or acquisitions, the ability to manage cash flow and risks, and the techniques for raising capital on the financial markets. It enables students to go on to study for an MBA in Audit and Management Control, an MBA in Wealth Management, an MBA in Banking and Insurance or an MBA in Financial Engineering at ESLSCA.

Training in figures - class 2022
82%
of graduates have obtained their RNCP qualification
100%
of students are in work 6 months after graduation
Target skills
Acquire knowledge, know-how and interpersonal skills through a holistic, systematic and cross-disciplinary approach to finance: companies, institutions, markets, risks and controls;
Consolidate the fundamentals of finance, accounting, economics and management;
Deepen your knowledge and skills in terms of the geo-strategic and economic environment, accounting, law, taxation, management techniques and financial analysis;
Develop expertise in both corporate and market finance, in a changing environment with a particular focus on corporate finance.
Programme of the MBA Corporate Finance 2023/2024 - 518h
Derivatives
Market finance
In-depth accounting
Accounting and financial auditing
Company valuation
Corporate strategy
Financial analysis
Banking - Financial intermediation - Financial markets
Option pricing models
Financial diagnostics
Financial Accounting
Behavioural Finance
Business Intelligence
Econometrics applied to finance
Excel
International finance and risk management
Company law
International accounting standards (IFRS)
Taxation of groups of companies
Compliance
English
Coaching/case studies
Visits/conferences
2-month work placement (44 days in a company) for initial training
MBA objectives
Diagnose the viability of the organisation
Manage business performance
Exploiting the contribution of technology to finance
Anticipating and managing regulatory and financial risks
Using modern managerial methods derived from recent social scien