Admission Level
3-year Undergraduate degree or Higher
INTRODUCTION
Program description
This International MBA program aims to help students become excellent international managers. It allows you to develop all the skills necessary to excel in an international and multicultural market.
Why choose this program?
This MBA will enable you to acquire skills with a global perspective while broadening your view of the world. It will also develop your learner mentality by preparing you for the rapid transformation of the international business world.
Your growth potential will be strongly harnessed to become a recognized professional in the market, by creating work opportunities in multinational companies, by integrating skills essential to your future goals, and by considering and developing your own business.
Finally, you will also develop your management capacity by interacting with experts and leaders in global management, experiencing study tours and visits to interesting companies, effectively addressing existing organizational challenges and improving your performances in English and French.

88%
of students are employed 6 months after graduation
4.72/5
Of students satisfaction rate
Objectives
Prepare to work in the management of a global and recognized company in a context of rapidly changing international organizations and markets.
Know the basic needs of international companies to become a future manager.
Obtain a complete and rewarding training
Courses Program
Business Ethics & CSR
Virtual Presence & Online Platforms
Diversity & Cultures
Creativity & Innovation
Organizational & Human Centered Design
Research & Development
Business & Artificial Intelligence
Global Marketing Management
Social Intelligence & Interpersonal Skills
Transformational Leadership
Relationship Building & CRM
Business Transformation
Organizational Behavior
Big Data Management
Globalization & International Trade and economics
Megaprojects & Sustainable Development
Advanced Neuro Decision Making
Communication & Public Speaking
Strategy & Consulting
Entrepreneurship & Startups
Operations Management
International Business Law
Finance & Accounting and economics
Self-Development & Personal Mastery
Mastering Influence & Negociation
Business Models
Human Ressource Management
Project & Quality Management
Skills
Competence in global leadership - develop the international development strategy, contribute to the development of the company's overall policy, analyze market developments, define guidelines, produce recommendations, present the axes of the developed strategy, and formalize the international development strategy.
Competence in growth management - design the international development plan, assess the existing markets according to the different target countries, identify the specificities specific to each country, assess the potential and the risks, determine the orientations to be favored, develop an argument, and structure the development plan.
Competence in business creation - establish the commercial strategy and operational marketing, define the projects to be carried out, verify the conformity of the project business plans, structure the commercial and marketing strategy to be carried out in the different zones, and supervise the development by the area managers.
Competence in international realization - manage partnership relations and trade negotiations, develop sourcing policy, define methods of researching service providers, negotiate terms of partnership, establish new business plan, verify relevant legislation force, control international activity and negotiate.
Competence in cultural diversity - manage the international department and coordinate activities, manage the department's budget, assign sales managers, organize a way of managing proximity or distance, negotiating and solving problems, contributing to recruitment, employee mobility and conduct annual reviews.
Competence in global markets - monitor and adjust the development plan, verify the relevance of the strategic approach developed within each region, analyze the markets, verify the adequacy of results against forecasts, decide on adjustments, and produce summary reports on all the results obtained
Teaching method
The ESLSCA Business School Paris has developed its own method, the ESLSCA Learning System, based on three pillars:
A solid academic knowledge which constitutes the first pillar on which all learning is based.
The experiential approach to international trade, which means applying the learnings to concrete situations through an abundance of case studies and concrete projects (Capstones, Hackathon, sharing of ideas and development of analytical skills)
The experimental approach, which aims both to prepare students for the professional world and for intellectual openness, by carrying out activities outside of class and sessions: thematic conferences, company visits, participation in trade fairs.
MBA 1st year
BAC+3
Open to professionals
Selection all year round
CV + motivation questionnaire
MBA 2nd year
BAC+4
Open to professionals
Selection all year round
CV + motivation questionnaire
Career perspectives
The International MBA program can provide hands-on management training that can prepare students for work in a large or small international company.
They can work as:
Financial Analyst
Auditor
Financial Controller
Product manager
Responsible for the communication
Human ressources
Marketing Manager
Entrepreneur / Start-up - Founder
Consultant
Why Choose ESLSCA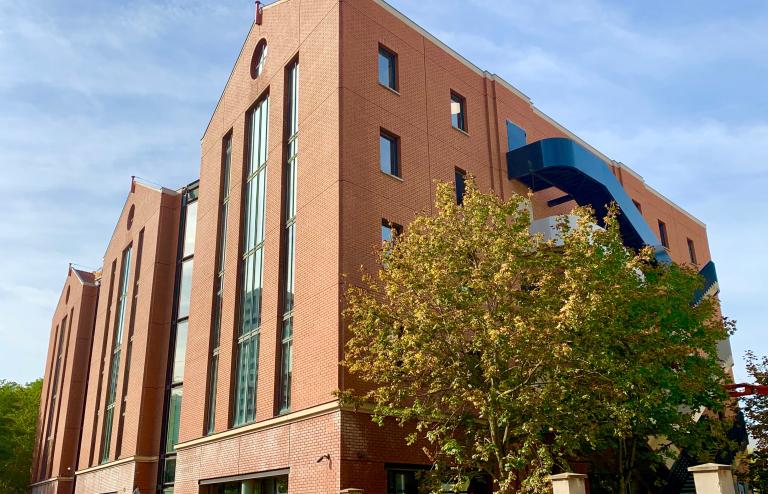 Reason 1/5
8000 M2
This is the size of the new ESLSCA Business School c