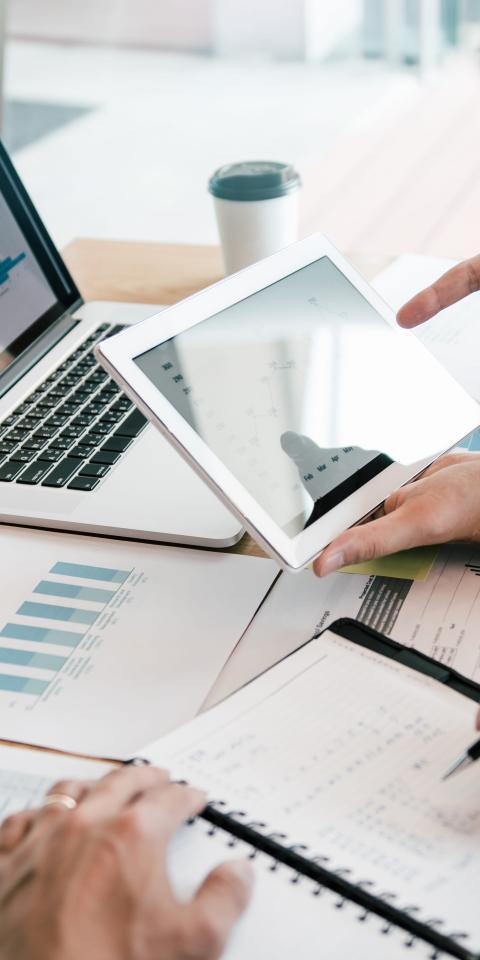 MBA Finance - Audit and Management Control Specialization
Start date
April and October
Admission Level
4-year Undergraduate degree or Higher
Finance attracts talent from a wide variety of backgrounds through its stimulating professions and high salaries. This diversity of horizons is an asset, but it does not prevent a base of common values, foremost among which we can cite responsibility and transparency. Indeed, finance is first and foremost based on the confidence of stakeholders, as the recent crises have reminded us. Finance is a "control center" allowing resources to be allocated to projects to best support growth. Whatever the sector, the company relies on its financial frameworks, both to ensure the compliance of its activity and to finance its development.
94%
Students are employed 6 months after graduation
32%
Of students on an internship or who are employed abroad
33 000€
Average gross salary in 1st job
Objectives
The Master in Business Administration (MBA) Finance - Audit and Management Control specialization prepares future ethical managers with cutting-edge technical and financial skills, aware of the development directions of their professions as well as the importance of their activity for the society as a whole. This ambition for ethics and responsibility is central at a time when the requirement for the sustainability of the activity, such as technological developments (in particular blockchain) are fundamentally disrupting the professions of finance. The MBA Finance - Audit and Management Control Specialization allows adaptation and adaptation to new professions in companies and financial institutions. It prepares students to work in this new environment and meets the new expectations of professionals.
The Finance - Audit and Management Control Specialization program prepares students on various points:
Acquire in-depth training in technical expertise in the field of finance
Develop a solid knowledge of corporate finance practices in a context of increasing deregulation and globalization
Acquire the necessary know-how, both with regard to the economic environment, accounting, law, taxation, and the management techniques themselves
Develop expertise in Audit and Management Control, real management tools for the company
Adopt a complete and transversal approach to finance: companies, markets, risks and controls
Courses Program
QUANTITATIVE THEORIES OF PORTFOLIO MANAGEMENT
IN-DEPTH ECONOMETRICS
CASH AND ASSET MANAGEMENT
PRESENTATION OF THE FINANCE PROFESSIONS
BUSINESS MODELS
PERFORMANCE MANAGEMENT
MERGERS ACQUISITIONS
SME & DISRUPTIVE INNOVATION
VBA
GREEN FINANCE
FINANCIAL CRIME
FUNDRAISING & CROWDFUNDING
FINANCIAL ENGLISH
PROJECT MANAGEMENT
MANAGEMENT CONTROL
TAXATION OF CONSULTING COMPANIES
INTERNATIONAL AUDIT STANDARDS (ISA)
INFORMATION SYSTEM AUDIT, ADVICE AND REPORTING ARCHITECTURE AND SECURITY OF INFORMATION SYSTEMS
SOCIAL AND ENVIRONMENTAL AUDIT
An academic dissertation is an original work testifying to the student's independent thinking in his discipline, based on a mastery of disciplinary methodologies, concepts and corpus to a degree of analytical quality allowing him to go beyond their compilations.
This work should be seen as the culmination of theoretical learning and as the necessary link to deepen with the sector in which the student intends to develop his professional potential.
During the academic year, in addition to a student's traditional activities (participation in trade fairs, participation in association activities, etc.), Finance students must participate in the preparation of one of these highlights:
Visit to an audit firm / investment bank / business lawyer: discussion of career prospects with current professionals (we can consider 3 visits per year)
1 research-oriented conference in December (eg: the energy bubble of cryptocurrencies). This conference aims, among other things, to inspire themes of memory.
1 Master Class in February / March: students identify and invite the speaker / alumnus. In addition, they animate the session and interact with it
1 Collective public intervention (April / May) allowing students to define an annual performance barometer (no market valuation, it is based on a financial valuation) in order to define a champion company fo