Support provided by the REs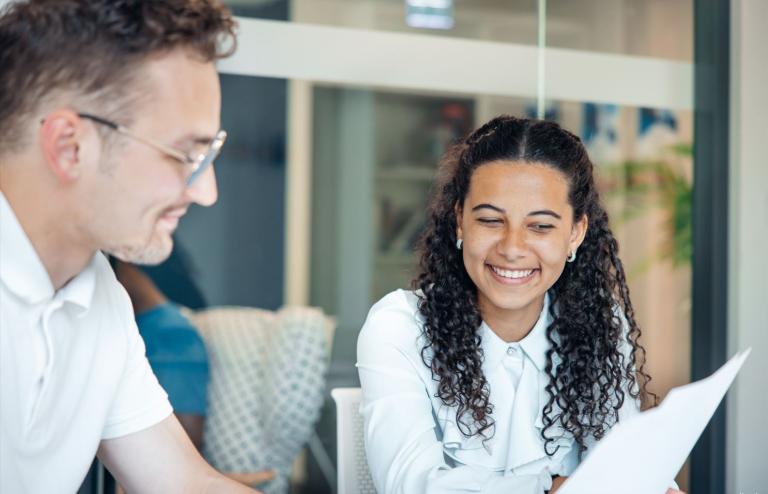 Tailor-made support in the search for your work-study program
Each year, our teams support more than 200 students in their search for work-study training and then in company monitoring. Our method revolves around an effective methodology
    Coaching in creating your CV and preparing for your job interviews
    Support in your research: dissemination of offers, partnerships, recruitment organizations ...
    Getting in touch with your host company in negotiating your contract and drafting your work-study agreement
    Personalized follow-up during your work-study program
Our Corporate Relations Department
Career Center
ESLSCA has an attractive Career Center to help you in your search for a work-study program. What is the Career Center?
It is an online platform that lists hundreds of internship or job offers (in France or abroad) posted every day especially for you: www.eslsca.jobteaser.com. Using a profile creation, you can apply for offers directly posted by recruiters on our site, which increases your chances of being taken on a work-study program quickly.
This is a site dedicated to your career. It contains many tools to help you find work-study programs: articles on designing a CV, videos to prepare for interviews, student testimonials, video tutorials to guide you in your research, etc.
There are also many career events throughout the year, such as coaching sessions for example, in order to develop your potential and achieve your professional goals.
The Companies Forums
To help you in your research, ESLSCA Business School Paris offers "Business Forums Special Work-Study and Internships". These are real assets in addition to the Career Center: recruiters come directly to meet you at ESLSCA!
The forums are reserved for students of the school and allow you to apply for a large number of positions. This is a unique chance to be able to interact with recruiters, maximize your number of applications and learn more about each company in order to find the one that suits you best.