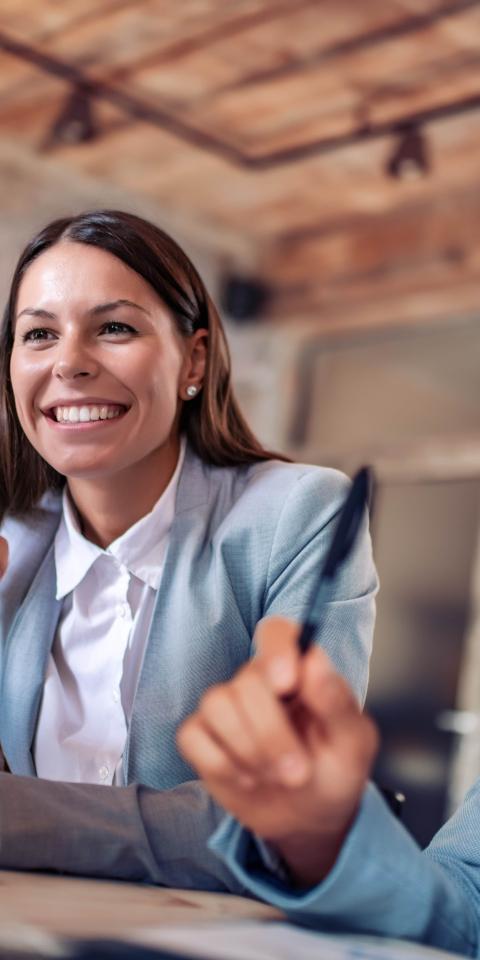 Executive MBA Online Trading
Admission Level
Master's degree (Bac+4)
This Executive MBA Trading is entirely devoted to mastering financial instruments in the broad sense. It also highlights with trading strategies & alternative investments with a focus on its practical implementation in the United States.
The diploma relies on both ESLSCA teachers, who will place in perspective the theoretical and conceptual aspects, and practitioners, who are experts in their field, in order to connect the training to the reality of the markets and the daily issues faced in the country.
Why do an Executive MBA in Trading online?
Why do an Executive MBA in Trading online?
ESLSCA offers an excellent course 100% online and in English. It is the EMBA Online Trading that provides registered candidates with a strong added value to their professional career.
An Executive MBA of excellence online
This programme is unique in that it focuses on practical implementation in the United States. One of its strengths is that it examines all trading strategies and alternative investments. Its main objective is therefore to provide candidates with relevant and innovative financial tools.
The course is taught by high-level instructors and combined with expert speakers such as traders, salesmen, brokers, quants or analysts and risk managers who share the reality of the issues in this country.
An Executive MBA Online Trading for market experts
This course offers candidates an innovative learning format with courses and lectures given by highly qualified professors and financial trading experts. Professionals provide practical case studies on financial trading business cases to EMBA students.
Doing this Executive MBA in Trading and online is a significant enrichment of your professional curriculum while you are already working.
Targeted Skills
Define the main characteristics of financial instruments used in financial markets: plain vanilla & exotic products, Delta One products, derivatives and structured products;
Gain an in-depth understanding of how each instrument works and to use it: from a stand-alone product to special financing structures;
Acquire a sound knowledge of the regulatory and compliance framework and how to use it in the US context;
Identify the major risks associated and set up controls that may mitigate them;
Understand and handle the forthcoming technical developments and challenges in the sector of finance (fintechs, big data…).
Program of this Executive MBA
Macroeconomic and geopolitical analysis

Typology of financial assets/instruments
Fintechs and big data / Blockchain and derivatives

Phython coding

Wall Street Trades (financial services)
Tradings and shares, repo

Structured products

Alternative investment, Hedge Funds
Quantitative portfolio management (liquidity management, Portfolio Risk management, risk assessment)

Fundamentals of technical analysis (preparation for CFTe1)
Financial market law and regulation

Financial market compliance
Thesis on a trading issue
Objectives of this Executive MBA
Produce macroeconomic and geopolitical analyses of the impact on financial markets

Carry out technical analysis of financial products and benchmark index

Designing and building complex financial products

Carrying out operations on the financial markets

Monitoring the compliance of financial market transactions
Recognition of the diploma
Title RNCP 34338 "Expert des Marchés et Instruments Financiers" Level I French, Level 7 European delivered by the Ministry of Labour (Official equivalent of a Master 2).
A module is dedicated to the preparation of the IFTA technical analysis certificate (CFTEI1).
Why choose this program?
100% Online course, with an innovative blended learning format which will share the students its extensive know-how through

Live lectures, with High-Specialized Professors in financial trading

Online lectures

Testimonial of CEOs, traders

Top level training, with class Exercises and Homeworks launched by Professionals

Real projects about financial trading business cases and strategies to deal with as in the professional life

Thesis's personal follow-up by a tutor
This Executive MBA applied in the line with the reality imposed by the financial industry with a focus on US context.
It offers :
A fintech module delivered by the BHSEU, The Business, Fintech and Management School of New York

A Wall Street trades module : 25 videos on demand available all along the training

A module dedicated to the presentation of the IFTA technical analysis certificate (CFTEI1)
Rhythm
Time volume: 380 hours over 12 months
Frequency: 1 module every 4 weeks (including exams and thesis preparation)
Admission requirements
Enrolment is open all year round and closes once the number of students has been reached (limited places per class).
Prerequisites
Recognized Diploma (high school diploma +4/5 equivalent at least)

Professionals who have between 3 and 10 years of experience in finance or related areas (middle/back office, risk management, investment funds, audit, etc)
Admission procedure
Pre-selection of the file including:
CV

Application questionnaire

Skills assessment interview
Career Opportunities
This training aims to give access to professions of:
Investment Banking (Market making, Market operators, Structuring, etc.)

Market finance (traditional, alternative management, etc.)

Custody (Custody of securities offered by financial institutions)

CIB (Corporate and Investment Bank) consulting and management
To validate the Executive MBA
The student must obtain the average of 10/20 in each bloc (module set).​
Eliminatory mark for a module: 0/20 (even if  the student has 10/20 in the bloc) ​
For each Module: Ongoing assessment (attendance, engagement, participation, etc.) (40%) + Final Exam (60%)​
Each module has a description (Syllabus) shared in the first session and on Blackboard​
Validation of all five blocks of competencies is mandatory. blocks can be capitalized. ​
A certificate can be issued to each candidate after the validation of a block. ​
Partial validation of a block is not possible.
Pourquoi choisir l'ESLSCA